Finding the right cutlery can be challenging, particularly if you are on a tight budget.
When discussing cutlery it is important to use a distinction between the knives that you need to cut and prepare food and the use of eating the said food with the tools.
Cutlery encompasses both of these two groups but there are different distinctions when selecting from between them. Here are some of the considerations when buying cutlery.

Tools to Eat Food
One of the base purposes of cutlery is its use as a tool to eat food with. There is one material that is primarily used for most forms of cutlery, stainless steel, and you shouldn't diverge from this material for the most part, other than some plastic cutlery for kids. The reason why stainless steel is so prevalent is due to its use as a functional tool that is long lasting and sturdy, but also due to it having a lack of taste.
Many people do not realize, but most people used to taste their cutlery along with their food before the use of stainless steel, whether that material was bone or wood based, or some metals that would leave a metallic taste in your mouth when eating. Staying within a base level of cost that stainless steel offers is a great opportunity for many who are looking to buy cutlery for their use.
There are many stainless steel cutlery items available for reasonable costs, keeping in mind that you are mostly paying for the design and ornate features of the set. As such, purchase what looks good for you rather than choosing a product based on material as stainless steel is practical, affordable and altogether useful.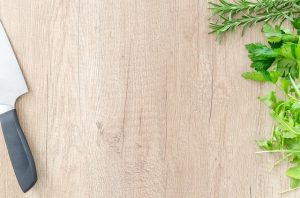 Tools to Cut Food items and prepare them
The other side of cutlery is the food cutting tools such as a solid knife set that will allow you to prepare food items for cooking. The most common and popular tool for cutting is a chef's knife which is of a certain proportion that is effective for slicing fruits, vegetables, and meat. A chef's knife is the jack of all trades and can serve many purposes for any kitchen.
Overall, you shouldn't go too cheap when using an chef's knife. A stainless steel metal (see the trend) is useful here and is the best choice for most people, but there are other alternatives such as ceramic knives which can maintain their edge for a long time. Some people will go cheap and buy an knife that never needs sharpening, but these will become dull after sometimes and cannot be sharpened.
You are typically better off investing in a knife that is well constructed and which is 8 or 9 inches long and can be quickly sharpened with a knife sharpener. By doing so, you will have a tool that can last for many years. if you are not buying a solid metal piece and looking for a wood or plastic handle to ease the holding of the knife then you should look to make sure that it is well constructed and has rivets on it which keep the knife attached to the blade in multiple spots and is well constructed. It is a good idea to hold a knife to see if the weight is burdensome to you when holding it to make sure the blade is right for you.
Buying a knife set like หัวเตาแก๊ส will provide you with a mix of different knives for special tasks such as boning meat or dicing small items. It is a good idea to invest first in a quality chef's knife and to build up a collection if you cook using these specialty devices which you may use less frequently than you think.